Jenny Annerstedt, Operations Engineer
Jenny Annerstedt, operations technician is an Operation Engineer at Rottneros Bruk in Sunne since 2023.
"It's a good personnel policy and people are looked
after here, you're not just replaceable outright".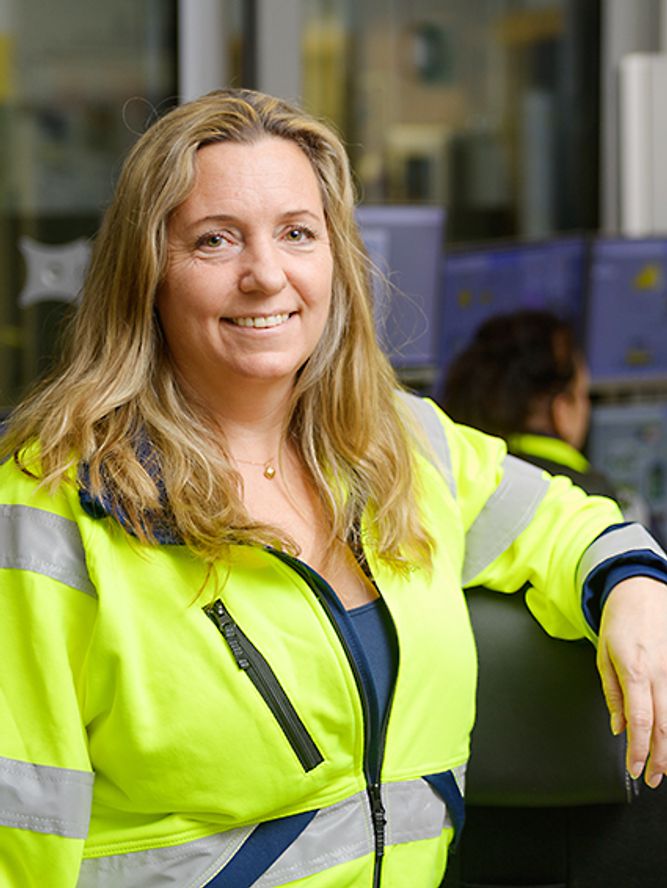 Jenny feels that she has found her home at Rottneros Bruk
After the summer of 2023, Jenny Annerstedt started as an operations engineer for process cleaning/drying at Rottneros Mill. The maintenance shutdown was in her third week: "I've never seen an entire factory shut down like that before. It was organised chaos and very educational," says Jenny.
Until the summer, she'd worked at Uppsala Vatten, also as an operations engineer. But for many years, she had held several different positions at Hallsta Paper mill, which also produces mechanical pulp (TMP): "I like the smell here at the mill, it feels like coming home, she says.
Good staff policy and open-mindedness
Jenny really likes her workplace, and she thinks it's different from other places where she has worked: "I think there is a good staff policy here with a high level of safety awareness. Everyone's professional skills are valued, and opinions and ideas are appreciated. It makes people more involved, creates higher commitment and reduces staff turnover. We care about people here, you're not simply seen as someone who's replaceable," says Jenny.
"Everyone is very straightforward, there's an open-mindedness and it's appreciated that you say what you think.
Likes it when there's lots going on - and solving problems
Jenny's role as a production engineer is quite general, with 'a bit of everything'. She is able to draw on previous experience from working life in various professional roles and enjoys the position very much. "I like it when there's a lot going on and I adore solving problems. I'm not a routine person."
Jenny has started to learn the purification process, where she must find any bottlenecks and eliminate them. She has already come up with some suggestions for improvements. Eventually, she will also be introduced to the drying process and work in the same way there.
Folk racing, renovation and chickens
But who is Jenny outside of work? There seems to be no shortage of leisure activities: "I love motorsport and have been competing in folk racing for many years.
There also comes a lot of screwdriving, straightening dents and replacing broken drive shafts with the sport.
In her heyday, Jenny had around 50 cars in her back yard, but only brought five racing cars with her when she moved to Värmland. Now they are all sold.
"I still have my trailer and race bus, so I can start again with new cars if the racing bug returns. But right now I want to keep some chickens again."
Perhaps you are also interested in...