Mattias Olsson, Electrician
Mattias Olsson started as an electrician at Rottneros Mill in June 2020, in the middle of the pandemic. He enjoys the variety of work tasks and the work atmosphere at the mill in particular.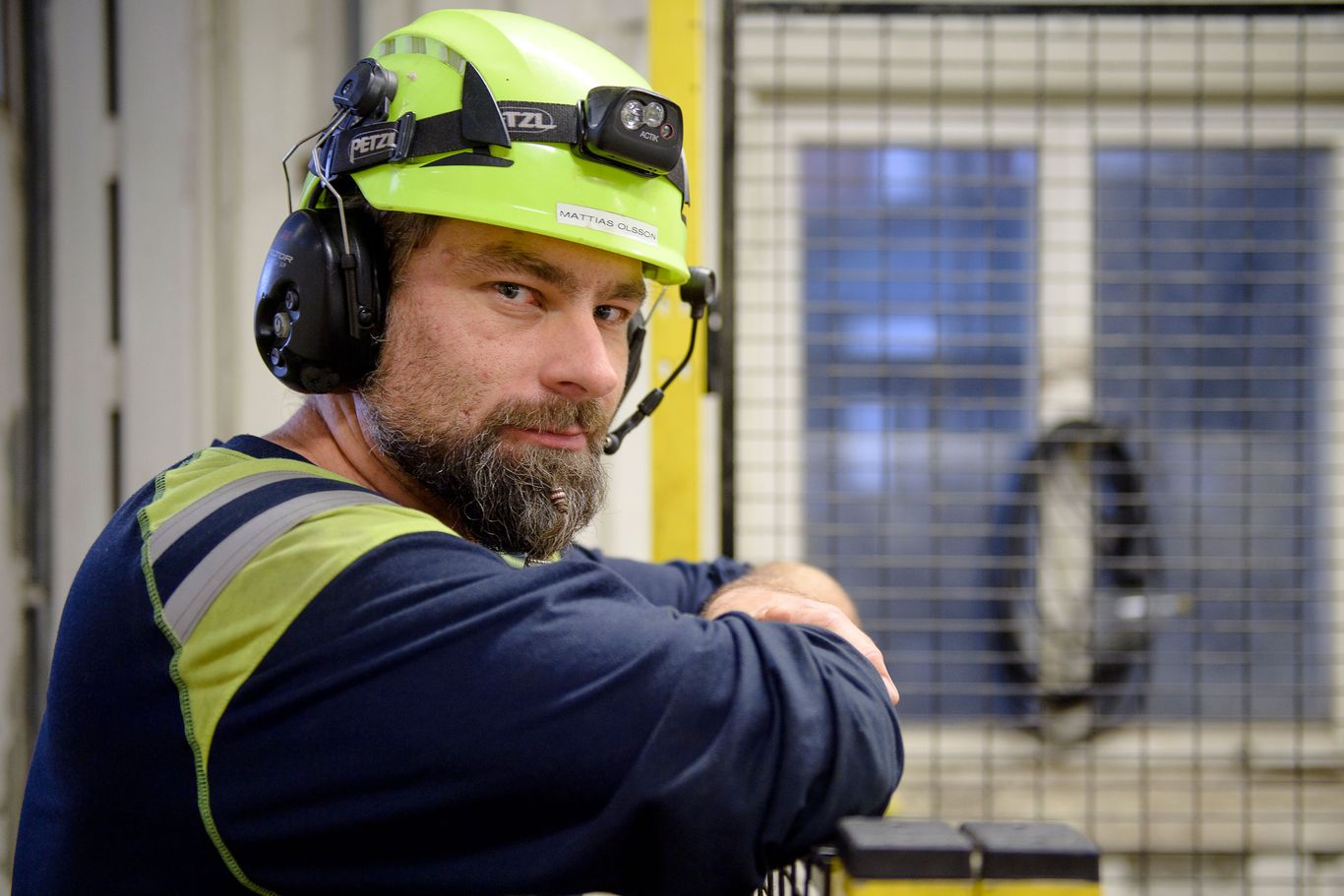 What was it like to change jobs in the middle of the pandemic?
"It was just the right time to start here. My previous job was as a service technician in various industries in Sunne. It would have been hard for me to sell my services if I'd still been in that situation during the pandemic."

How did it come about that you started just at Rottneros?
"Rottneros was the first company in my mind when I wanted to leave my old job. I had spent a lot of time here earlier on loan as an electrician and fortunately they had a position for me. It was a great advantage when I started to know the premises, systems and the employees from before."

What does an electrician do at Rottneros Mill?
"There's a total of seven electricians at the mill. We all work daytime, and we take turns to be on call, for a week at a time. Our daytime activities are divided into different orientations, e.g., electricity, data and control systems. But when we're on call, we have to intervene wherever necessary."

What's your orientation?
"Right now, I'm a maintenance electrician, but in the long term, I'm earmarked to focus on the control systems. We're going to replace one of the older control systems and I'm already involved in that. However, this is usually done in connection with planned downtime so we don't slow down production. It's not just about software, it's about installing new cables section by section."

What do you think of Rottneros as an employer?
"I want to work in industry of course. At Rottneros, there's a more down to earth and friendly atmosphere than in many other places. You feel it in your bones that you really want the mill to survive. It's been around for so long after all.
You can see from the premises that there have been a lot of different activities going on here. When it's four o'clock, you don't always just go home and forget about the factory. Rather you stick around as you feel responsible even after work."

What's the best part of your job?
"The best thing about my job is the variation, it's never boring like it can be in larger factories. One day I can be programming and the next day welding a bracket onto a cabinet. You can make your own mark and never get tired of the work.
I learn something every day. But the best thing is that the mentality is so good and informal here."

How do you normally solve a problem you've never encountered before?
"If it's not urgent, I can search for the answer myself, for example on forums that the supplier of the control system has or troubleshoot using up-to-date documentation such as electrical drawings etc. If it's urgent to solve the problem, you have to get someone "to throw you a lifeline" and call a friend, someone who's encountered the problem before. Even if it's the middle of the night."
What training have you had?
"I studied to be an electrician at technical college, but have also been on some company courses, such as electrical safety and a little within S7 (various control systems that Siemens organises courses for). You have to learn new things all the time. But even though you've had training, you're pretty much a 'rookie' until you've solved a problem on site. The job is very experience-based."
Perhaps you are also interested in...